Convict stockade historian, Ollie Leckbandt, is the author of this unique book on three important convict stockades in New South Wales.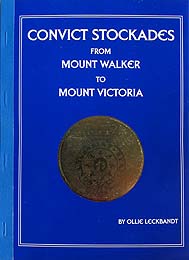 Convict Stockades from Mt Walker to Mt Victoria describes the historical remains and amazing artefacts found at stockade sites along the old Mitchell's Road to Bathurst. These stockades housed convict road gangs and their regiment guards building the Mitchells Road and bridges over the Cox's River in the 1830s. These little-known sites are located just south of Lithgow, NSW, between the townships of Rydal and Mt Victoria.
In particular, this book focuses on Bowen's Hollow Stockade, Hassan's Walls Stockade and Mount Victoria Stockade. It includes detailed maps and photographs of each site, along with over 70 photographs of coins, military buttons and domestic buttons, musket rounds, buckles, insignia, clay pipes, bottles, pottery, nails and many other fascinating relics.
Ollie Leckbandt explains the history and significance of the many convict artefacts found on the sites. The family history of the Binning family associated with the stockades is also recorded, as well as the historic Forty Bends Cemetery with its Travis and Keenan graves from the 1800s.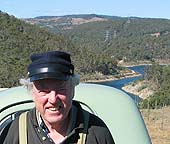 Author and historian, Ollie Leckbandt, at the Mount Walker convict stockade site.
Title: Convict Stockades from Mount Walker to Mount Victoria
Author: Ollie Leckbandt
Date: Second printing -- 1999
Format: Softcover, A4 size, 116 pages, black and white illustrations
ISBN: 0958521506